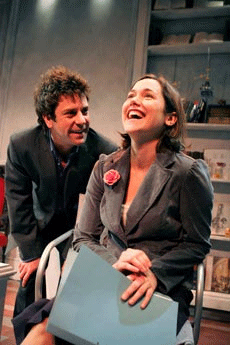 Hamish Clark and Lucy Liemann in Phallacy at the New End Theatre Photo: Tristram Kenton

Inspired by an actual event that rattled the art world some years ago, Carl Djerassi's new play explores the aftershocks when a sculpture thought to be Roman is proven to be a Renaissance copy. The museum director who has built her career on the erroneous attribution first resists the new evidence and then argues that it is irrelevant to the piece's aesthetic value, while the scientist who provided the correction is contemptuous of a field of study that does not give primacy to facts.

The debate quickly degenerates to a personal and petty turf war, which junior academics are sucked into, while flashbacks to the Renaissance offer a possible explanation for the confusion.

Part detective story, part satire of academic infighting, the play rolls along enjoyably under Andy Jordan's fluid direction, comfortably mixing broad comedy with thought-provoking debate and only occasionally moving a little too quickly to be satisfying. While the experts' descent into personal vindictiveness is all too believable, their initial leap into high dudgeon is a bit rushed, as is their eventual ceasefire.

As the opponents, Jack Klaff and Karen Archer capture both the polite veneer and vicious insecurity of the threatened academic, while Hamish Clark and Lucy Liemann believably show their generally saner junior colleagues being drawn into the war mentality. Lynette Edwards and Chris Brazier flesh out the briefly seen Renaissance characters sufficiently to make them seem worthy of their own separate play.

Gerald Berkowitz
Production information
By:
Carl Djerassi
Composer:
Jon Nicholls
Management:
Andy Jordan Productions
Cast:
Hamish Clark, Lynette Edwards, Chris Brazier, Jack Klaff, Karen Archer, Lucy Liemann
Director:
Andy Jordan
Design:
Michael Taylor
Lighting:
Chris Corner
Run time:
2hrs 10 mins

Production information can change over the run of the show.