18th April 2005 - What's on Stage Review
Phallacy

| | |
| --- | --- |
| Venue: | New End Theatre |
| Where: | Inner London |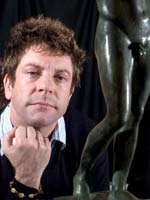 The punning title gives a clue to the nature of Carl Djerassi's latest play. Phallacy is knowingly clever, it requires your concentration, but it sometimes manages to be playful as well. Look out for references to Rilke, Klee, the battle of Lepanto and a quick mini-lecture on the treatment of Christ's penis in Renaissance art.
Michael Taylor's rather beautiful set suggests, in the limited space available, a Viennese gallery, a lecture theatre (complete with indispensable screen for illustration), two private offices and a room in a 16th-century palace. This design provides flexibility for Andy Jordan's fluid production in which characters move around each other, perhaps centuries apart, without causing confusion.
The play itself, inspired by a real case, is a sort of animated lecture, or rather two conflicting lectures, ostensibly based on the well-worn rivalry between the "two cultures", art and science.
Antiquarian Regina Leitner-Opfermann has staked her reputation on a particularly beautiful bronze statue of a young man being Roman. Rex Stolzfuss (you don't have to be a classicist to understand from the names that we are in for a right royal battle) is a chemist who has proved, to his own satisfaction, that it is a Renaissance copy. He and his young assistant Otto are about to publish their findings, which makes it difficult for Regina to cling to her dismissal of science as "sterile crap".
There ensues a mixture of farce and thriller as each of the academics employs an assistant to prove a point. If the chemical analysis cannot be disproved, does this matter as long as Regina's beloved bronze is a cast (and therefore clone) of an ancient original? This is where Don Juan of Austria comes into the picture: he might just possibly have requested the statue and caused a copy to be made.
The farce occurs when Otto turns up, complete with comedy moustache and cod Spanish accent, to offer Regina fragments of a supposedly long-buried Roman statue which appear to match the Renaissance bronze. The pieces have been faked on Rex's orders. He gleefully points out - after Regina has initiated a fund-raising drive - that the angle of the penis is different. Dr Leitner-Opfermann knows every measurement of her bronze to the last centimetre - except this one.
Needless to say, rivalry between art and science is a suitable and amusing subject for Djerassi, the inventor of the contraceptive pill, who is also novelist, poet and memoirist as well as playwright. There are other debating points here too. How should art be valued? What is the relationship between financial worth and beauty?
In fact the arguments rather swamp the action. The eager rivals - although gamely played by Jack Klaff as Rex, Karen Archer as Regina and Lucy Liemann and Hamish Clark as their younger supporters - remain mouthpieces for ideas rather than fully drawn, full-blooded people. There is talk of dinner, but it's hard to imagine them actually eating it.
- Heather Neill
---